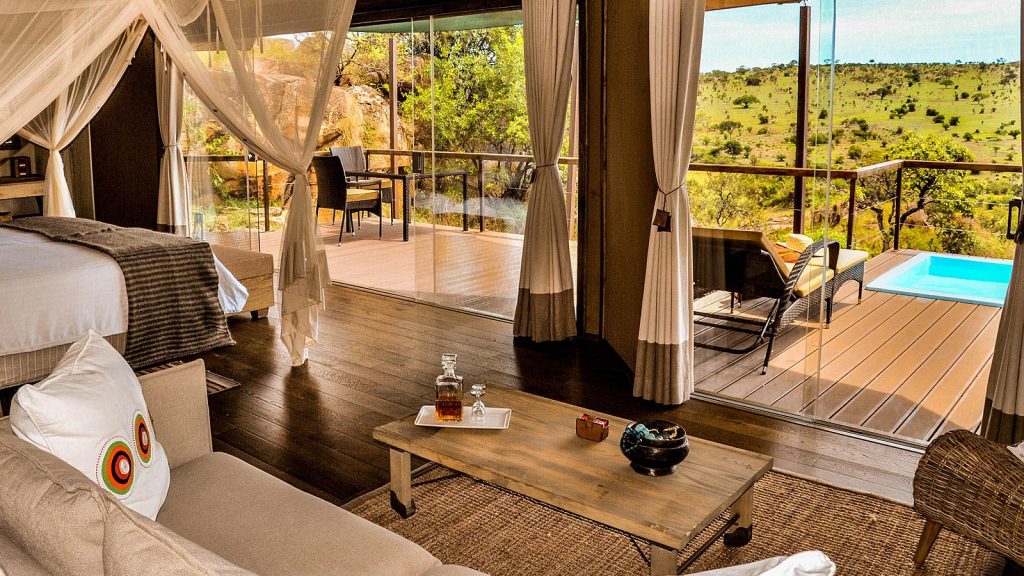 4 Days Tanzania Lodge Safari Itinerary
Tanzania Lodge Safari Packages
Tour Code: BTA 004 SNSS
Days o: Arrival in Arusha
On this day our safari manager will meet you at your Hotel/Lodge in Arusha for detailed safari briefing. Please let us know if you will need the package price to include your transfers & accommodation in Arusha before & after safari.
Day 1. Arusha – Tarangire National Park
Distance: 120 km
Non – game viewing time: 2 – 3 hrs.
This morning we meet you at your lodge in Arusha for short safari briefing if arrived late, then you will depart for Tarangire National park via Arusha town in casa of any last minute purchase please talk to your driver. Tarangire is the fifth largest National park in Tanzania located at the base of the Great East African Rift Valley made up of hills & low land dominated by acacia woodlands and hug baobab trees dwarfing some animal species that comes beneath it.
Tarangire River which runs from north to south of the park and swamp on the south corner are the permanent source of water in the park saves as refugee's camp for a large number of animal during the dry season. Another major highlight of this park is the large population of elephants & the three rare species of Lesser & Great Kudu, Fringed Eared Oryx & the Ash Stalling. You may also expect to spot herds of buffalo, zebra, wildebeest, warthog, hippos, giraffe and a big number of baboons & monkeys. Predators like lion. leopard, cheetah,jackals & hyena are also inhabit the park. For bird watchers this is the place over 400 bird species where recorded here which includes ostrich, herons, secretary bird & the rare species of Ash stalling. Later afternoon drive to the lodge for dinner & overnight.
Overnight at Marera Valley Lodge in Karatu. All meals included.
Day 2. Tarangire  – Serengeti National Park
After breakfast depart for Serengeti National Park the drive is via the beautiful high lying farmland of Karatu all the way to Ngorongoro gate for check in. Then drive up to the Crater view point where you can stop for some nice pictures before driving around the crater rim & down to the plains of Serengeti.
On the way you will visit one of Masai village for some cultural encounter whereby a group of Masai warriors invites you & take you in and around their houses with some stories of their livelihood around this area, you will meet some kids & other member of the family, you may ask questions & you can take picture with them. Lastly, they will sing & dance their famous song which involves jumping high, you may join the dancing.
After, drive up to Naabi Hills gate for registration. You may have your packed lunch here before starting your afternoon game drives in the vast Serengeti. You will be searching for Wildebeest Migration & the big cats, reach your camp during or before the sunset for dinner & overnight.
Overnight at Serengeti Tortilis Camp in Central Serengeti or Similar. All meals included.
Day 3. Serengeti – Ngorongoro Conservation Area
On this day you will start early with breakfast box and lunch box, firstly you will be looking for cat family as they spend their morning time on the road avoiding the morning mist, then you will be heading to where the Wildebeest Migration is packed & spend much time with them. (This will depend on the time of the year & if they will be at Central Serengeti) but with or without the Migration of herds Serengeti is still the best just as much as always. Later in the afternoon start your way to Ngorongoro Conservation Area with en-route game drive, arriving during the sunset for overnight at Rhino Lodge in the crater rim or similar in Karatu Town.
Overnight at Ngorongoro Rhino Lodge or Similar. All meals included.
Day 4: Ngorongoro Crater – Arusha
As early as 6:30 you you will descent 600 meters into the crater floor for game viewing. Ngorongoro Crater is referred by many as the 8th nature wonder of the world. Supported by yearly around water supply from the highlands & enough fodders, the crater supports a larger number of animals which include herds of wildebeest, buffalo, zebra, eland, topi, warthog, hippos, African elephant & the rare species of black rhino.
The next draw card to this picturesque Crater is its dense population of predators which include lions, cheetahs, hyenas, jackals as well as the ever mysterious leopard which sometimes needs a binoculars eyes to spot. The shallow alkaline Lake on the Southwest corner of the crater is home to some flocks of flamingos and other aquatic birds. With a bit of luck the 'Big Five' can be seen in one day of game drives, (picnic lunch will be served at the crater floor).
Later afternoon drive out & back to Arusha via some Masai market or shopping centers if needed. If flying the same day (late flight KLM) then we will drop you at Kilimanjaro international airport (JRO. If staying in Arusha (accommodation can be arranged upon request at extra cost).
End of the service
Short 4 days Tanzania lodge Safari Ngorongoro, Serengeti & Tarangire is one of the best trip especially during the Wildebeest Migration in Serengeti.
To have a reasonable package price a minimal number of 2 people shearing is advisable.
To secure accommodation for the mentioned lodge/camp, booking should be made earlier possible and a deposit of at least 30% is required.
All accommodation for 4 days Tanzania lodge safari subjected to availability